Political Science (Major)
The B.A. in Political Science (Major) program at Anglo-American University is offered by the School of International Relations & Diplomacy and aims to give its graduates tools to explain and understand the complexities of our era.
Discover International Relations at AAU!
| | |
| --- | --- |
| Accreditation | WASC + NABHE |
| Degree | Bachelor of Arts |
| Duration | 3 years |
| Location | Prague, CZ |
| Tuition EU | CZK 654 000 |
| Tuition NON-EU | CZK 764 700 |
| Intake | Fall / Spring |
| Deadline | Rolling Admission |
Apply Now
Download Brochure
Please submit your details in order to receive the brochure via email.
About the program
The curriculum offers a balanced mix of courses on political and international relations theory, philosophy, economy and history which is complemented by a range of skills-oriented courses in writing and research or classes increasing proficiency in foreign languages.
Students learn about how political processes and institutions function and affect societies and individuals beginning with theoretical profile courses that instruct students on categories of regimes and governmental systems, types of electoral systems, and heterogeneous voting trends.
The curriculum then offers students instruction on both U.S. and European political institutions as well as on political economy and conflict resolution. Together, the core courses offered in the program enable students to develop a broad understanding of the nature of political change as instruction is not limited to one regional or temporal context.
Students are also required to learn about the conceptual intricacies associated with both qualitative and quantitative methodologies and to demonstrate how analytical concepts can inform our analyses of political phenomena.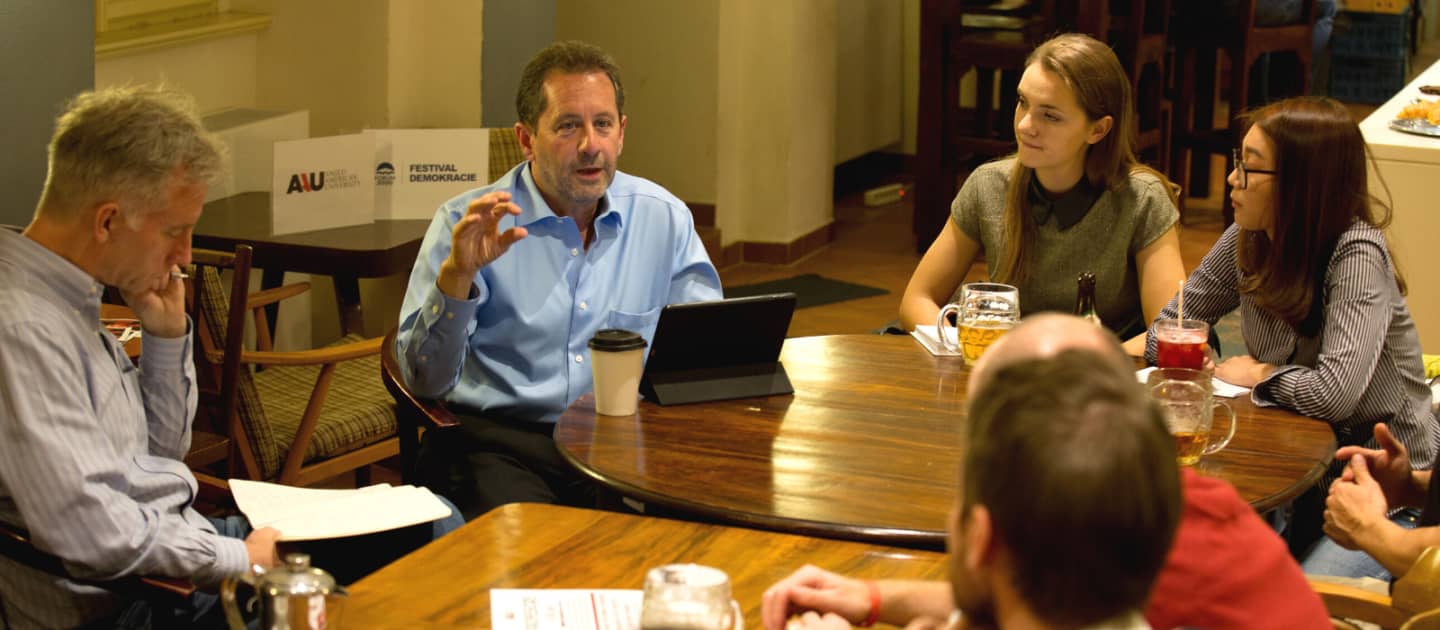 Beyond the classroom you can join student clubs like Diplomacy or Model UN, practice your debate skills at a faculty-student debate or discuss current political issues with professors and local experts at an event like 'Professors in the Pub'.
AAU's Career Center also connects students with numerous professional internships in the Czech Republic and abroad every year.
"AAU makes networking incredibly easy to do. I was able to participate in various events that don't necessarily connect to my coursework—conferences, literature festivals, debates, lectures, etc. AAU has helped me and my club get in touch with event-organisers, which, for example, allowed us to host an event during the Festival of Democracy organised by the famous Forum 2000 conference."

Veronika Bartáková, IR student, President of Diplomatic Club
As of January 2021 AAU is a Member of the European Consortium for Political Research. ECPR is the leading scholarly society for political scientists in Europe with over 300 institutional members in nearly 50 countries. This will allow AAU students and faculty to participate in ECPR events and become members of some of its standing groups.
Program Structure
Political Science (Major) is a 3-year study program. To graduate, students must accumulate 90 US credits (180 ECTS credits) by completing 30 courses.
This program does not include a specific concentration, instead, students are required to take more major courses which allow for more choice of electives.
For more information on the modular structure and the study program, please contact our admissions team at admissions@aauni.edu.
Learning Outcomes
Graduates of the B.A. in Political Science can expect to:
Understand and follow changes in patterns of political behavior, institutions, and structures on the basis of comparative and historical knowledge.
Develop the ability to formulate logical inferences about political phenomena and evaluate these through appropriate theories and methods of political science.
Develop knowledge on basic factual information in the discipline including the fields of comparative politics, American and EU politics, political philosophy, development studies and conflict resolution.
Assess the effects of various political structures on individuals and societies to determine which are more likely to promote equality, freedom, justice and other values.
Discuss and debate basic theories, levels of analysis, and empirical evidence used in relevant scholarly literature on public opinion, elections, and institutions.
Career Prospects
AAU graduates thrive in multinational environments and are able to communicate professionally in English to international audiences. As a graduate of this degree program, you will be well equipped to continue your studies or pursue a global career in areas such as:
Government Institutions
Political Campaigns
Policy Advising
Social Research and Publishing
Public Opinion Data Interpretation
Reporting and Administration
Public Service
Political Advocacy
Humanitarian Government or NGO's
Qualification Awarded
The Bachelor's degree awarded is concurrently recognized as a Bachelor of Arts (B.A.) in the United States, per AAU's accreditation by the WASC Senior College and University Commission, and as a Bakalář (Bc.) in the Czech Republic, per AAU's accreditation by the National Accreditation Bureau for Higher Education (NABHE). Graduates may select whether to use the U.S. post-nominal or the Czech pre-nominal title.
Additional information
See what our students have to say
I enjoy classes at AAU, especially political philosophy because it is teaching me how to communicate in social communities and this skill could be used both in daily life and in business. Plus, our professor is amazing. I've never seen such a charismatic and interesting person who dives fully into the subject of every lesson.
Danil Gulko
International Relations, Kazakhstan
AAU makes networking incredibly easy to do. I was able to participate in various events that don't necessarily connect to my coursework like conferences, literature festivals, debates, lectures, etc. When I was President of the Diplomatic Club, AAU helped me get in touch with event-organizers, which, for example, allowed us to host an event during the Festival of Democracy organized by the famous Forum 2000 conference.
Veronika Bartáková
International Relations, Czech Republic
Do you have questions?
We are happy to help!
Ask us a question!