Student Housing
AAU is proud to offer students the opportunity to live with classmates from different countries and cultures in the heart of Prague, only 20 minutes from the AAU campus, in a lively district full of art, parks, and restaurants.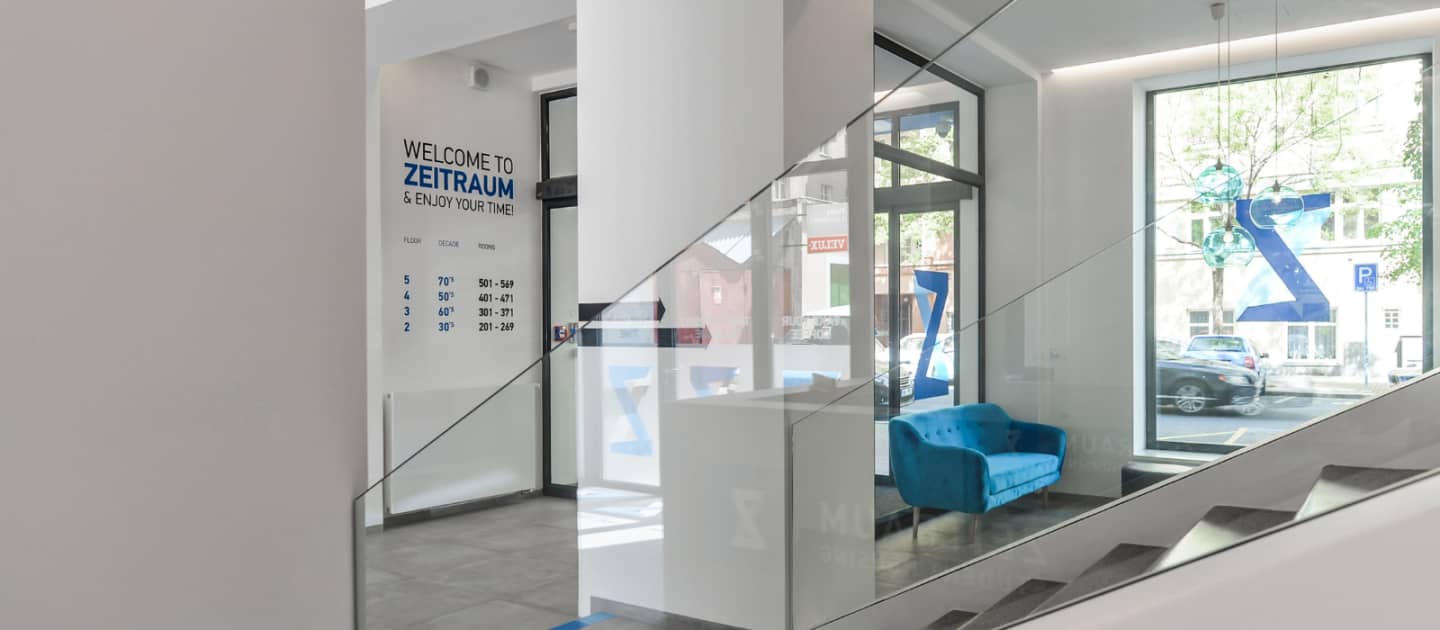 About Zeitraum Student Housing
AAU is proud to partner with Zeitraum Student Housing as our exclusive provider.
Located at U Průhonu 56, in Prague 7, in a newly refurbished building, Zeitraum offers housing for AAU students and other young professionals in Prague. The building is approximately 25 minutes to the AAU campus by public transport and offers facilities equipped for comfortable student living.
The building has 7 floors, 111 total rooms, and the possibility to choose from double or single rooms.
It's no mistake that Holešovice has been named one of the top 10 coolest neighborhoods in Europe according to TheGuardian.com. AAU students have the opportunity to live in Prague 7, the original industrial quarter, where factory buildings and abandoned warehouses have since turned into art galleries and breweries on the banks of the Vltava River. Thanks to the convenient location and recent surge in popularity Holešovice is home to an eclectic group of students, international expats, and locals alike. In this up-and-coming district, you can find: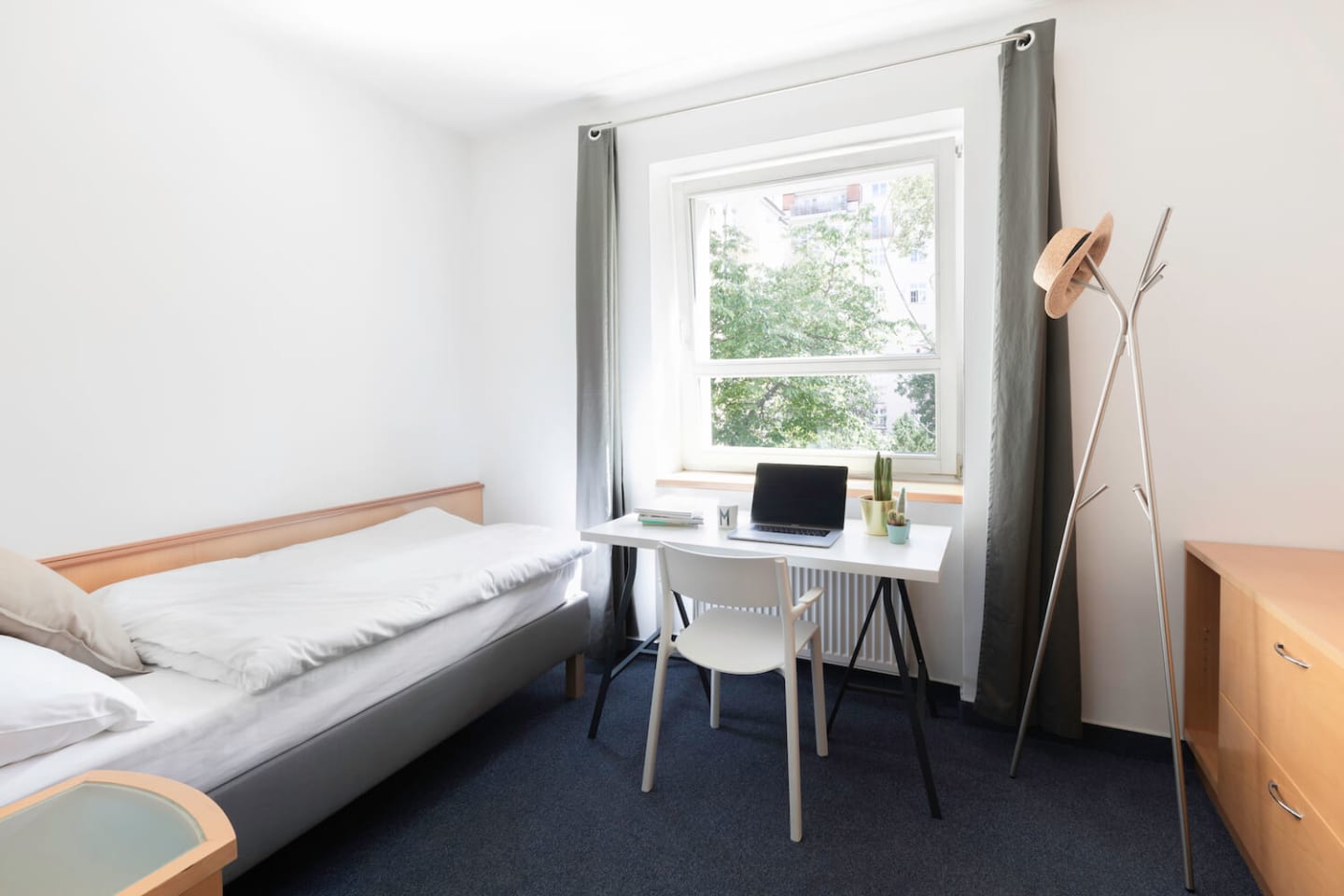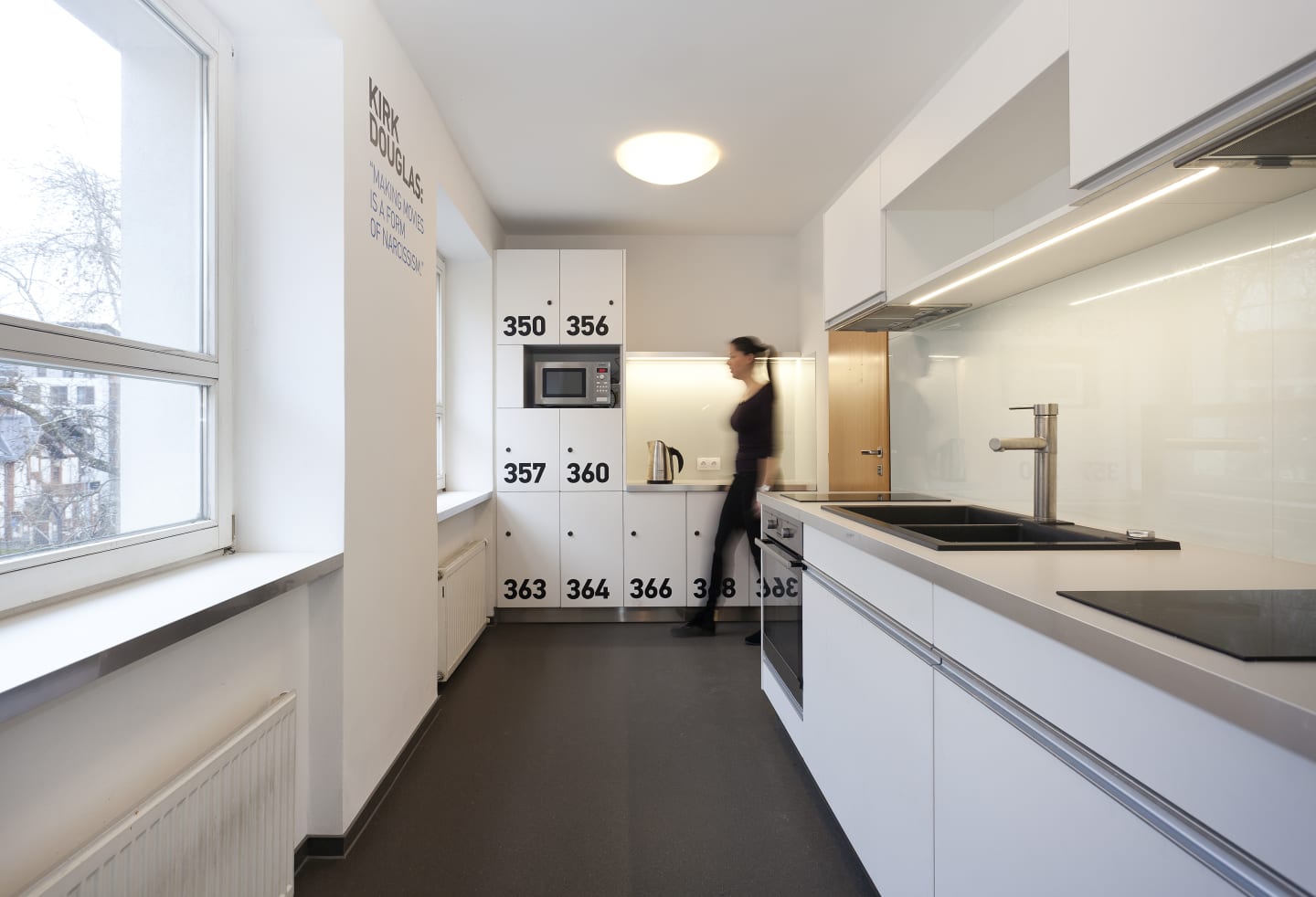 Pricing & Payment
Accommodation is offered for the full Fall (September – December) or Spring (February – June) semester, as well as for the entire academic year. If capacity allows, students can also be accommodated in the Winter (January) and Summer (June/July/August) terms as well.
| Type of Room | Price per Semester |
| --- | --- |
| Single | CZK 87,000* |
| Double | CZK 77,000* |
*12,000 CZK refundable deposit included in price
The price includes utilities, wi-fi, government fees, and use of common spaces.
The security deposit, minus any charges for damages or fines, will be returned after the end of the semester or year.
Deposits & Payment Plans
It is possible to make payments in full or through our installment plan. Payment deadlines are as follows:
Deadline Spring 2023
Deadline Fall 2023
50% installment + security deposit (1st payment)
November 20, 2022
May 20, 2023
50% installment
(2nd payment)
December 20, 2022
July 20, 2023
Full Payment
November 20, 2022
May 20, 2023
Please note these payments include an CZK 11,000 processing fee that is non-refundable in the case of cancellation by the student or cancellation by AAU.
Certificate of Accommodation will be provided to the students that fully paid for the accommodation.
Refunds & Cancellation
| | Refund |
| --- | --- |
| Official government-issued travel restrictions | 100% refund |
| Cancellation of reservation 60 days prior to check-in date | 100% refund of paid rent minus CZK 11,000 processing fee |
| Cancellation of reservation 30 days prior to check-in date | 50% refund of paid rent minus CZK 11,000 processing fee |
| Cancellation of reservation 0–29 days prior to check-in date | no refund |
Please note that leaving your housing midway through the semester means you will not be refunded any difference. It is counted as 29-0 days cancellation. This also applies to students that have made a booking for the Whole Academic year. If a student decides to move out after only one semester, they will not be refunded for the semester they decided to live elsewhere (e.g. student decides to leave after the Fall semester, they will not be refunded for the Spring semester).
Cancellation or postponement due to visa problems
Students must provide evidence of reasonable efforts to apply for the visa in a timely way, and notify AAU in writing of delays or denials.
Visa delay: Students who have paid at least 50% of the rent and are unable to attend for the planned semester due to visa problems may ask to be placed on a waitlist by notifying AAU Housing in writing at least 30 days prior to the check-in date. Housing fees already paid will be fully refunded (including the deposit) if there is no capacity in AAU housing. In such an occasion AAU will help the student find alternative accommodation.
Visa denial: Housing fees already paid will be refunded (minus the non-refundable deposit) should the visa be denied and AAU has been informed at least 30 days prior to check-in date. A letter from the embassy or consulate detailing the visa denial must be provided in order to consider a request. Please be noted that if the reason for visa denial is on the applicants' side (ex. providing wrong documents etc.), they will not be eligible for the refund.
Students who do not receive their visas and do not notify AAU housing at least 30 days prior to the move-in date will receive no refund.
Cancellation by AAU: If a reservation is not paid in full by the final payment due date, AAU reserves the right to cancel the reservation and return payments already made minus the CZK 11,000 processing fee.
Check-in & Check-out Dates
Please note that all dates are subject to change.
| | Spring 2023 | Fall 2023 |
| --- | --- | --- |
| Check-in | January 28, 2023 | August 18, 2023 |
| Check-out | June 19, 2023 | January 26, 2024 |
To arrange an alternative check-in date please contact housing@aauni.edu directly.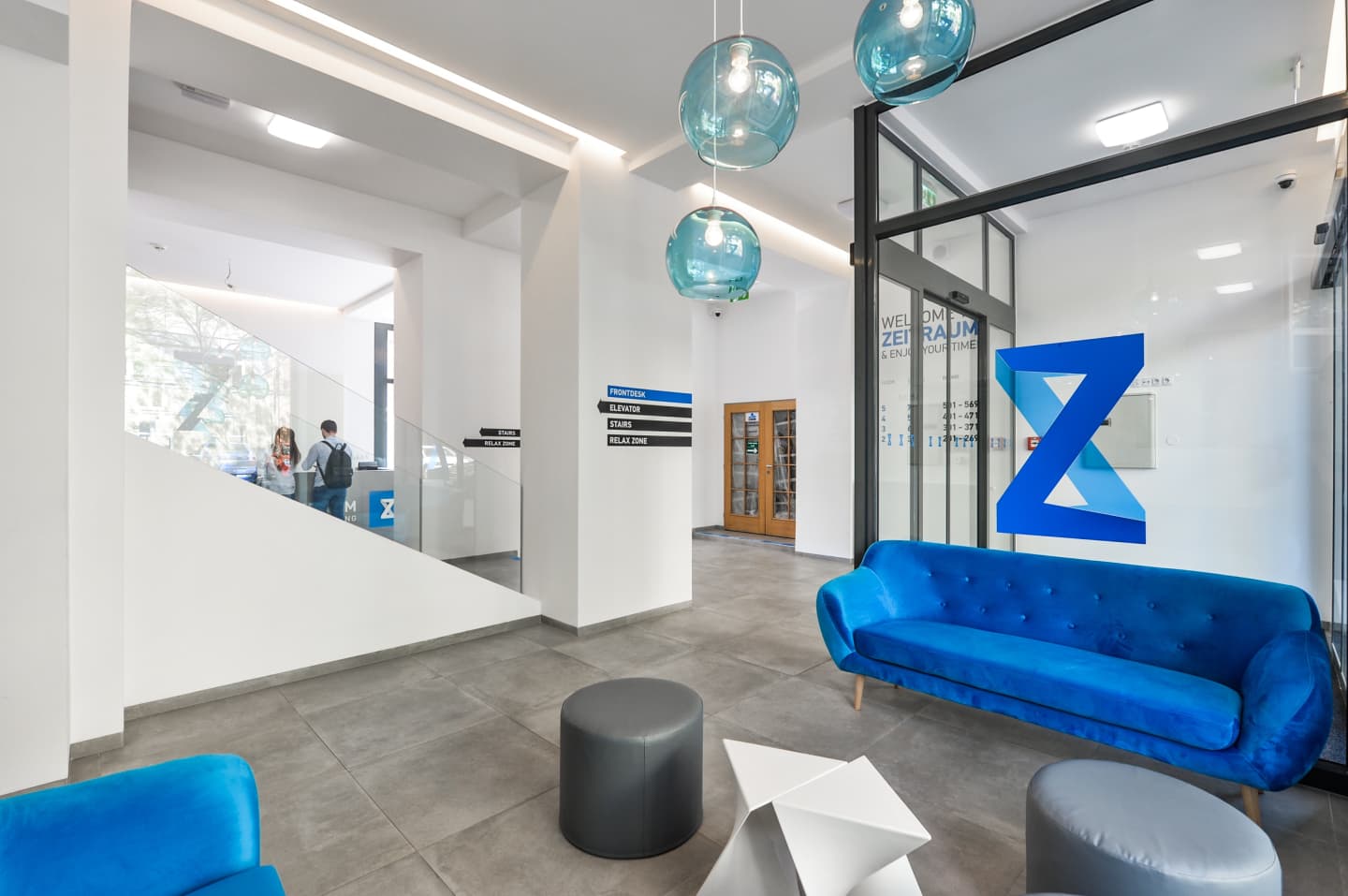 Apply
The application for Spring 2023 is now open. To apply please click the link, here.
For housing inquiries or if you have any further questions feel free to email housing@aauni.edu for more information.
Please note that once you are admitted to AAU, along with your acceptance letter, the Admissions Office and our Housing Specialist will send you more detailed information about available student housing options.
Discount for AAU students' families and friends
Our housing partner Zeitraum also operates serviced apartments, located in the center of Prague, just 15 minutes by tram from your housing, we are happy to inform you about the possibility to book such an apartment with a discount provided by Zeitraum.
Book accommodation online via this website.
To apply the 15 % discount, contact Housing Specialist Sabrina Boulaouad. The code is already valid and will be valid until 31/03/2023.
In case of questions about the accommodation or booking, you can contact the Zeitraum reception at prague.franz@zeitraum.re
FAQ's