M.A. in International Relations and Diplomacy
The Master of Arts in International Relations and Diplomacy is a 2-year, internationally accredited program offering a modern and interdisciplinary education in international relations & diplomacy. You will earn a globally recognized American and European B.A. degree.
Discover International Relations at AAU!
| | |
| --- | --- |
| Accreditation | WASC + NABHE |
| Degree | Master of Arts |
| Duration | 2 Years |
| Location | Prague, CZ |
| Tuition EU | CZK 436 000 |
| Tuition NON-EU | CZK 509 800 |
| Intake | Fall / Spring |
| Deadline | Rollings Admissions |
Apply Now
Download Brochure
Please submit your details in order to receive the brochure via email.
About the program
The International Relations and Diplomacy graduate program takes full advantage of Prague's central location in Europe. AAU's location in Central Europe creates an academic community where students can experience individual and collaborative problem-solving in small, interactive, and culturally diverse classes.
Intercultural communication and critical thinking are encouraged in a curriculum delivered by an international faculty of experts. Personal and cultural history flavor the program's curriculum to create unparalleled education in International Relations and Diplomacy.
"What I have liked the most is the quality of the professors. They are very specialized and they encourage students to participate and get the greatest possible benefit. Every class is multicultural and more than just a place to listen, but more like a healthy debate where you can express your opinions and learn from all of your classmate's different points of view."

Martin Perez, IRD student
Globalization has created a new type of international environment, that challenges the known world order and demands reflection. The Master of Arts in International Relations and Diplomacy program encourages students to identify, understand, and criticize current geopolitical trends, conflicts, and social movements with high academic proficiency.
The graduate program in International Relations and Diplomacy builds on theory and conceptual knowledge of world affairs with an emphasis on their application in individual or collective research in the fields of international relations, conflict studies, globalization and development or diplomatic history.
The curriculum offers a broad range of elective courses allowing our students to pursue their interests and further develop critical thinking. Throughout studies, our graduate students cultivate their skills in research methods, diplomatic protocol, or thesis writing seminar in preparation for work in governmental or non-governmental organizations, diplomacy, think tanks, and academic institutions, as well as in international business organizations.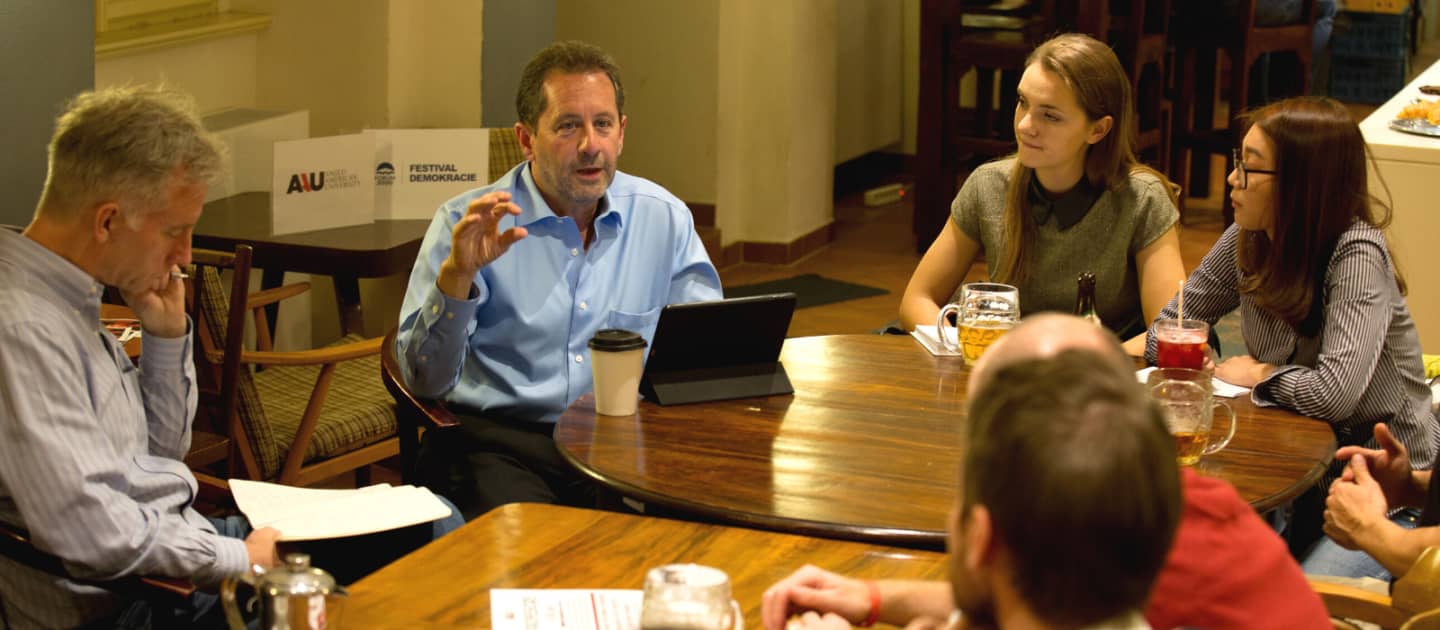 Beyond the classroom, you can join practice your debate skills at a faculty-student debate or discuss current political issues with professors and local experts at an event like 'Professors in the Pub' or 'Research and Creative Coffee'.
AAU's Career Center also connects students with numerous professional internships in the Czech Republic and abroad every year.
Program Structure
International Relations & Diplomacy is a 2-year study program. Students have to accumulate 60 US credits (120 ECTS credits) by completing 20 courses.
Having passed all the required and elective courses, students complete their study by taking state exams and defending their thesis.
For more information on the modular structure and the study program, please contact our admissions team at admissions@aauni.edu.
Learning Outcomes
Graduates of the M.A. in International Relations & Diplomacy can expect to:
Situate their arguments within the general ontological and epistemological frameworks of International Relations; apply relevant methods, theories, and levels of analysis in building arguments.
Be well-grounded in the institutional framework of international relations.
Apply theories to understand history and current events in international politics.
Apply theories to understand the working of the global economy, and to assess the role of various actors and institutions.
Choose appropriate negotiation strategies in various cultural and political contexts.
Career Prospects
AAU graduates thrive in multinational environments and are able to communicate professionally in English to international audiences. As a graduate of this degree program, you will be well equipped to continue your studies or pursue a global career in areas such as:
Diplomacy
Cultural Management
Social Research and Publishing
Reporting and Administration
Public Service
Humanitarian Government or NGO's
Qualification Awarded
The Master's degree awarded is concurrently recognized as a Master of Arts (M.A.) in the United States, per AAU's accreditation by the WASC Senior College and University Commission, and as a Magistr (Mgr.) in the Czech Republic, per AAU's accreditation by the National Accreditation Bureau for Higher Education (NABHE). Graduates may select whether to use the U.S. post-nominal or the Czech pre-nominal title.
Financial Aid and Scholarships
We provide a wide range of scholarships, tuition discounts, and financial aid options to help make quality education more accessible. To learn please visit our dedicated Financial Aid and Scholarships page.
Additional Information
See what our students have to say
I choose AAU for its program in IR because I believe it to be superior to other state universities. The fact that the university provides an environment where discussion and critical thinking are enhanced, is a large plus. Moreover, it solidified my views about my future career in politics.
Christopher James Downs
Political Advisor, USA
I can't touch on my AAU experience without bringing up prof. Zuzana Fellegi. She is the perfect lecturer - intelligent, ambitious, fair, supportive and easy to understand. Her expectations were high in class, but so were her rewards if you were willing to work hard and follow her instructions. And her pedagogical skills are unlike anything I've ever experienced before or since. Her International Organizations-class should be compulsory for all students in all faculties - it is a large part of the reason why I got the job I have now at the UN Association.
Knut Skjerve
Advisor at UN Association of Norway, Norway
Do you have questions?
We are happy to help!
Ask us a question!