Thank you, President Müller!
Though we will say an official goodbye to our beloved President Štěpán Müller at the end of July, staff and faculty enjoyed giving the President one last surprise at the end of graduation week. At this farewell party, AAU took the opportunity to thank President Müller for all his hard work during his tenure throughout the pandemic.
Opening our surprise, Petra Pollakova welcomed esteemed colleagues and guests to this secretly planned event. Casually dressed and surprised to see so many faces, Štěpán was surrounded by love and heartfelt emotion as Petra introduced Board of Trustees Chairman Doc. Ing. Jiri Schwarz to say a few words.
He started by acknowledging President Müllers ability to step into what was originally a simple interim role and step up when it came to crisis. These words were felt by all when expressed by Faculty Senate President Chris Shallow: "…it was Štěpán's calm caring leadership that kept us moving forward." Jiri was also able to go into some brief history of their long friendship and time working together. In doing so he expressed his admiration for President Müller's active interest in getting to know his fellow staff and understand each individual's job. On his first day as President of AAU, Štěpán went to each office, shook everyone's hand, and let people know that he was there to help in any way- an action that did not go unappreciated. Concerning the pandemic and its impact on the university (faculty, students, and all) Štěpán embraced the caring community aspect of AAU culture, ensuring detailed policies were laid out for those that needed it rather than merely redirecting them to the provisions under Czech labor law and each month, he would mail out a monthly letter. Even under challenging circumstances, President Müller remained a leader, taking the initiative to handle nostrification issues head-on by leading negotiations.
"We have a saying, in English, cometh the hour, cometh the man and … in those very dark hours in March 2020 and beyond … Štěpán was that man who came to AAU's rescue."

Christopher Shallow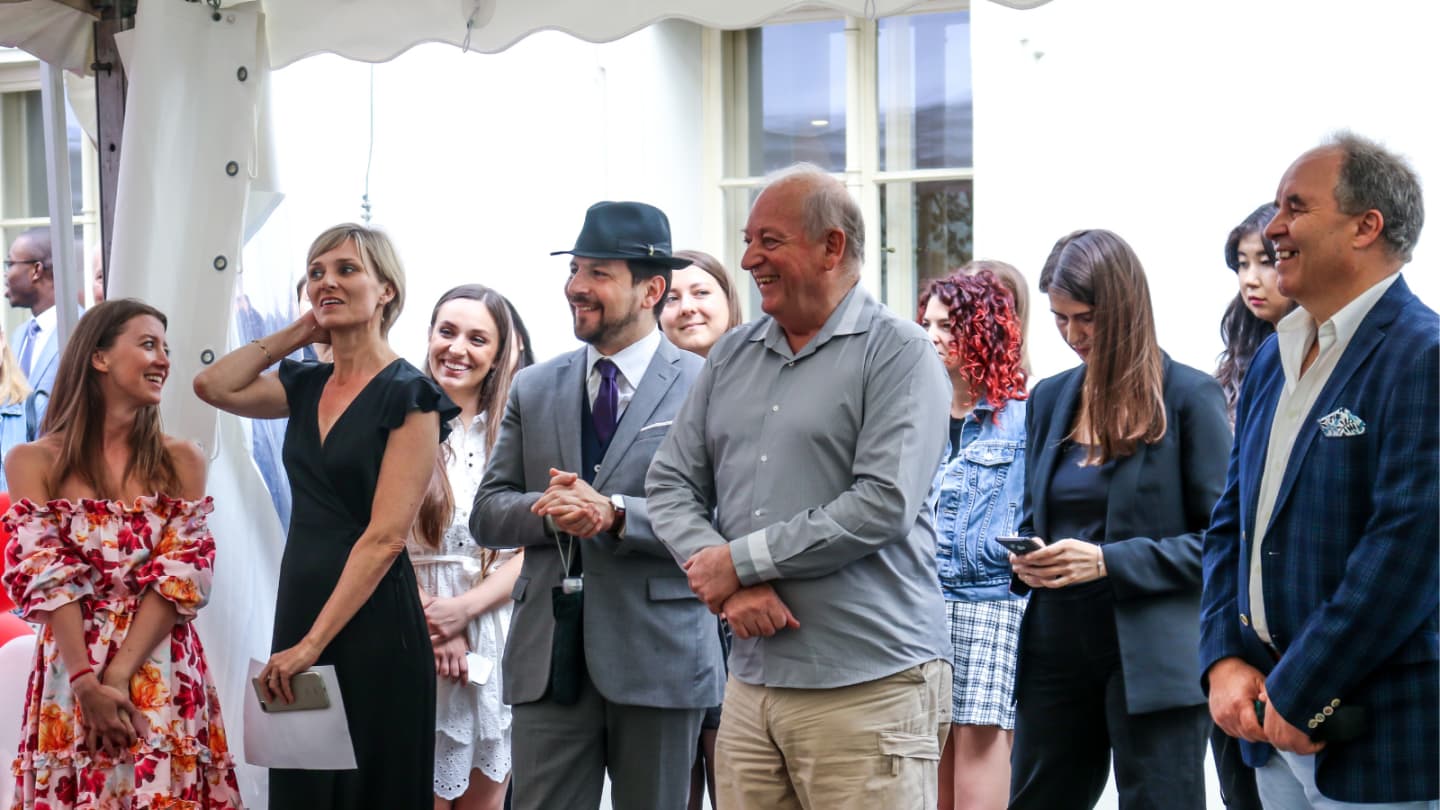 Before moving on to some small departing gifts, Eva Rivera spoke on behalf of all staff in saying that President Müller was that type of leader and supervisor who wasn't afraid to take responsibility. With a willingness to remain open-minded, he carefully considered the opinions and arguments of others. As such, he was also able to make the final decisions and take responsibility for them. All those unable to attend in person, alongside those who were, showed appreciation in the form of good wishes, happy retirements, and thank you video messages displayed in the courtyard. The staff collectively contributed to a few parting tokens such as a favorite wine, a gift box of sweets, a handmade wooden pen as well as a paid trip to Karlovy Vary- the president's favorite place!
All speakers expressed a mutual admiration in a toast to "Our Beloved President" whose notion is best explained by Chris Shallow:
"The greatest legacy of all is the respect, admiration, and even, dare I state, love, you leave behind you in all our hearts and minds. That is why the emotions expressed and felt today are very mixed: happiness for you and your very well-earned retirement, and, for us, gratefulness for your excellent leadership, mixed with sadness at your departure."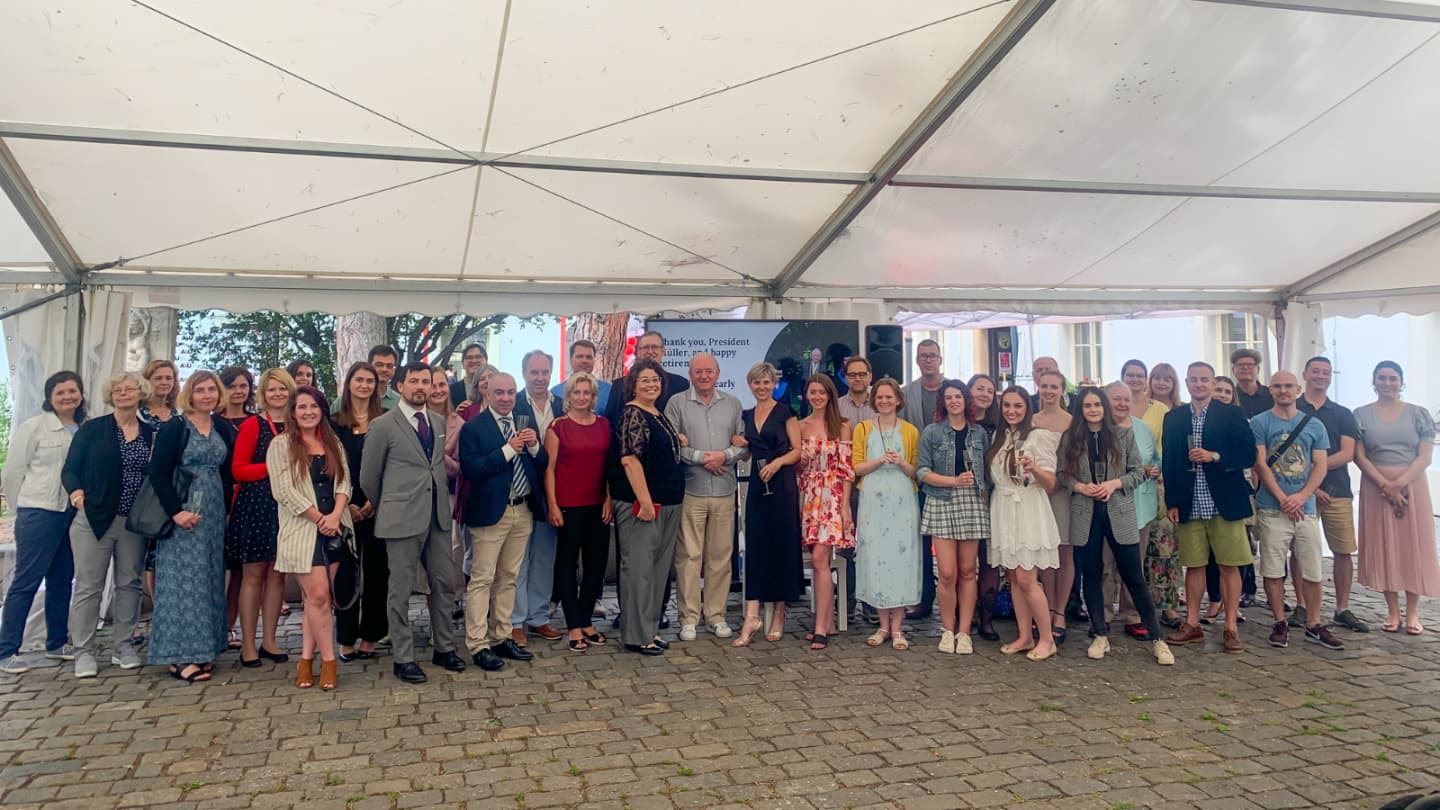 To conclude, thank you President Müller for all your hard work- you will be missed.