Thank you, Hybrid Team: A small gift from Faculty!
On Thursday 9th of December, faculty came together to give a special thank you to the Student Hybrid Team for all their hard work and technical support this past Fall semester. In response to the COVID-19 measures across the world, AAU introduced hybrid learning in classrooms to make sure all students had access to live and recorded sessions of their courses. These classes, with which we are all now familiar, allow students to participate in real-time both online and in-person simultaneously.
This new style of classroom teaching was, of course, not to be without hiccups along the way which is where our Student Hybrid Team come in!
What is the Hybrid Team and how did it start?
Over the summer of 2021, the Hybrid Classroom Taskforce began training faculty how to teach in a hybrid modality. In addition to such, they proposed hiring a group of students who could go into classrooms with instructors and set up all necessary technology (such as cameras, microphones, and connection issues) as well as deal with troubleshooting technology in order to let instructors focus on their lessons. After being met with approval from the Presidential Collegium, the Student Hybrid Team was established with Marharyta Tykhonovych managing the group. The training was provided by Peter Weis right before classes began this semester.
"These students were very helpful technically, but more than that, the great attitude with which they helped made all the difference in the semester. This is an amazing group of students."

-Josh Hayden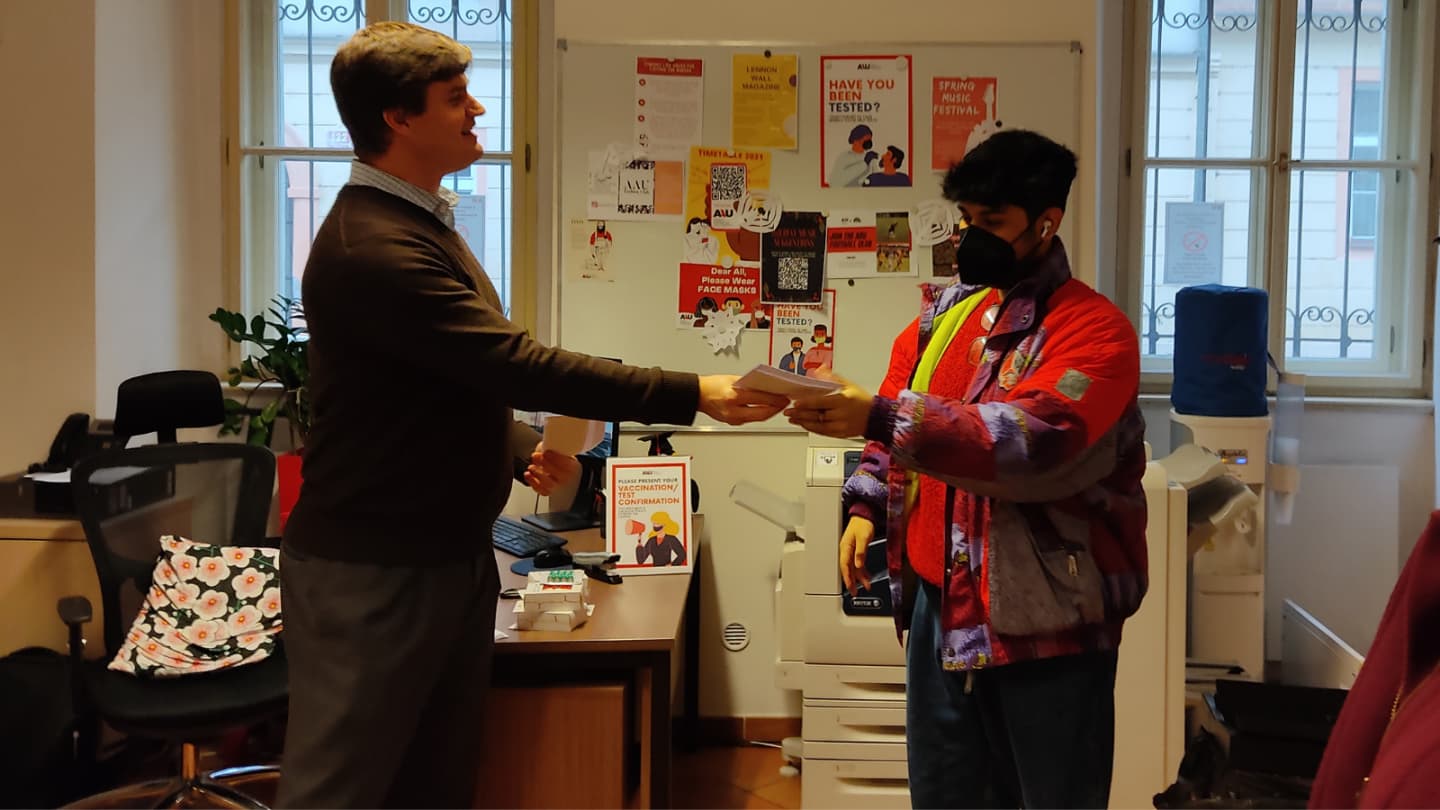 In a short interview with Josh Hayden, we asked how this gesture came about and who planned to surprise the Hybrid Team with such a warm thank you.
Who came up with the idea to gift the students money as a thank you?
Mark Wiedorn bought up the possibility during the faculty training at the beginning of the semester and the Faculty Senate helped gather donations. I, in my capacity as Faculty Senate Secretary, collected from many different faculty members across different schools, many of whom wish to remain anonymous. We raised 9,900Kc for the 9 students and were able to give them 1,100 Kc cash, each as a special thank you from the faculty.
Students on the Hybrid Team include:
Aiym Mukitanova
Anna Chevychalova
Duc Long Bui
Issac Hatch
Maria Ferariu
Renato Del Rio
Sophia Mariani
Tyler Roderick
Zachary Stuck
Sierra Sheeks (who started with the team but had to go back to the US mid-semester)
"Complete respect to the students on the hybrid team, yes their technical knowledge and help was great. With trying to juggle getting ready for class, both in class and online, their calm presence was very welcome and helpful. It was great to know that they were there throughout the semester. They made a big positive difference, thank you ."

–Mark Wiedorn
Once again, thank you to the students who continue to support our faculty, we look forward to working with you again in the upcoming semester!