Anton Zolotykh

2016 Alumnus
BA Communications & Mass Media
---
Meet our alumnus, Anton Zolotykh. He graduated in 2016 with a BA in Communications & Mass Media from the School of Journalism, Media, & Visual Arts and has been busy ever since! Anton is a Line Producer with 11+ years of experience working in international media organizations in both Europe and the U.S. He is currently a line producer/director at the Voice of America in Washington, DC.
As part of his work at VOA, he leads teams of 10+ video editors and graphics designers in Washington, DC, and New York to deliver high-quality news content. Anton is responsible for all production cycles of the live newscast: from the initial planning of the show to the on-air execution in the control room. He also oversees the logistical support of the newscast by booking remote positions for correspondents at the White House, the U.S. Congress, the United Nations, the Pentagon, and the NATO HQ, etc. Anton also works as a documentary filmmaker and post-production supervisor.
Why did you choose AAU?
AAU aligned with my idea of an international university. It had a very diverse faculty and students of different backgrounds that seemed to be like a perfect blend to me. Because not only I wanted to gain a degree, but also to familiarize myself with different cultures. AAU was also the most affordable international school in Prague that was right for me at the time. Not to speak of its magnificent medieval campus right by the Charles Bridge.
What AAU faculty member made an impact on you and why?
Tony Ozuna was the most impactful as were most of his classes. They were mind-provoking and engaging. We have also been lucky to have Tony as our guide to local art galleries and workshops.
Aside from a degree, what else did you leave AAU with?
A feeling of being a citizen of the world, not bonded to any culture or country. A good degree of critical thinking too.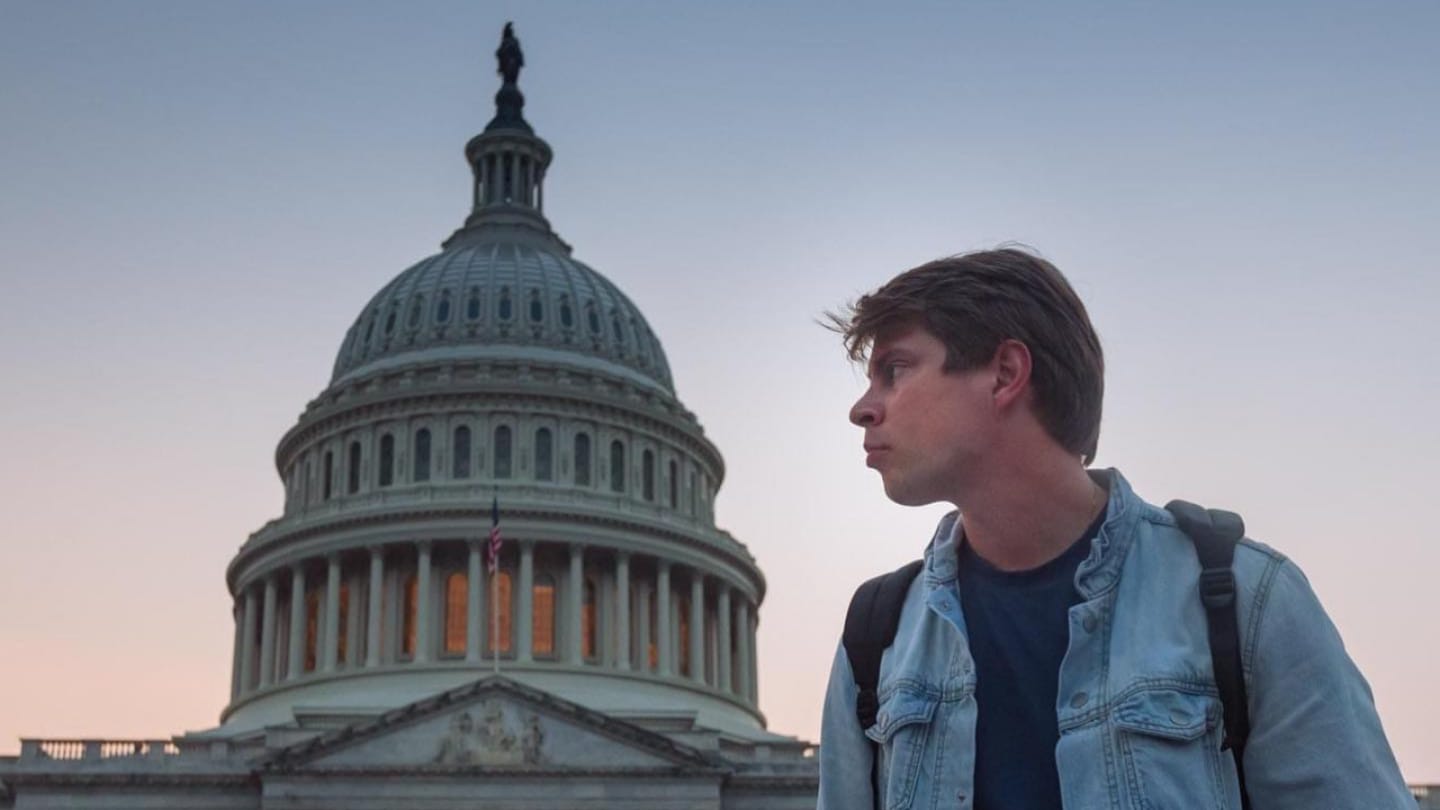 From Radio Liberty to Voice of America, what have been the best highlights/challenges of your career?
There have been a few. Every year of my professional career was somewhat impactful. In June 2014, I became the first-ever video editor of Current Time – a joint TV project by Radio Free Europe and Voice of America for Russian-speaking audiences. I am proud to call myself a "founding father" of this great project as we had a very clear mission in mind: to provide objective news and independent journalism to audiences where such access is either restricted or unavailable. Current Time TV now is a 24/7 television and digital news network aimed at audiences in Russia, the countries of Central and Eastern Europe, and anywhere else around the world.

From the moment Current Time was launched, I tried to be instrumental in any process that would make a positive contribution to the network. In 2016, I produced the award-winning documentary "Airport Donetsk" (about the battle for the Donetsk airport between the Ukrainian army and the Russian-backed separatists).

In 2018, I was deployed to Current Time's newly opened office in Bishkek, Kyrgyzstan for one month to train a group of local video editors and line producers ahead of the launch of the Current Time – Asia news show aimed at the audiences in Central Asia. I was also the first line producer of the entire news division to conduct complex and long-hour live broadcasts that included multiple remote connections in different countries. This aspect is especially related to the Current Time coverage of the opposition protests in Russia and the presidential election in Ukraine- for which we earned dozens of millions of views across digital platforms.
What were some of the biggest learning curves you had to overcome in your career?
When I was working on a project that was 75% completed, my lead executive producer became incapacitated, and shortly after we started working with another executive producer, who decided to change everything completely. And I had to pivot.

In the beginning, I disagreed with this person on almost every change he wanted to make to the project but eventually listened to each other's arguments. It taught me to be flexible and find compromise, yet defend my professional values in a calm and argumentative manner. Best of all? This project won an award eventually.
What was the biggest turning point in your life?
Moving to Washington, DC. These last two years have been very dynamic, yet challenging. The work environment and overall experience of living in the U.S. gave me different perspectives and broadened my horizons. Not to mention the professional network I had an opportunity to build.
What is next for you in your career/ life? Any advice to students looking to follow a similar career path?
I might move to Europe or stay in the U.S. Regardless of what I do next, it will be a logical extension of my career. I do not think I am in a position to give anyone advice however, I would say stay focused and follow your intuition. Never think of a setback as a failure – it is always an opportunity.