Erica Carlino, MA

2008 Alumna
MA Sociology and Public Policy
---
Erica Carlino, is dedicated to making the world a better place by engaging youth in international human rights work and helping to develop and implement Sustainable Development Goals. She lived in Prague from 2005 to 2010, where she obtained her Masters degree in Sociology and Public Policy at AAU in 2008. Erica currently is an NGO Representative to the United Nations and Executive Director of the Global Purpose Project and Teacher.
She took time from her busy schedule to talk to us about her experience at AAU and her inspiring accomplishments in the International Relations field.
When you were doing your Master's degree at AAU, what was your favorite class or teacher?
For me, it was Don Fuller, who taught Public Policy in Knowledge-Based Societies, and Theories of Globalization.
Why did you choose AAU?
I had an acquaintance that taught in Prague who recommended AAU to me when I was in my Bachelors in New York. I chose it because I couldn't afford to study a Masters's in the US, the debt would have been debilitating. I also loved traveling and wanted to gain experience abroad. I applied to AAU and RLS and was granted a Stiftung (stipend) from the Rosa-Luxemburg Foundation in Saxony (RLS) for Social Activism to study my first year in Prague.
What is your biggest accomplishment to date?
This one is tough because, honestly, it's a tie. First would be taking part in the United Nations Open Working group for the Sustainable Development Goals (SDGs). Helping to develop the SDGs and delivering statements as a UN Stakeholder was an amazing experience. I was able to contribute towards policy making for issues I was passionate about on a global scale. I worked mainly on issues of Gender Parity and Water Rights.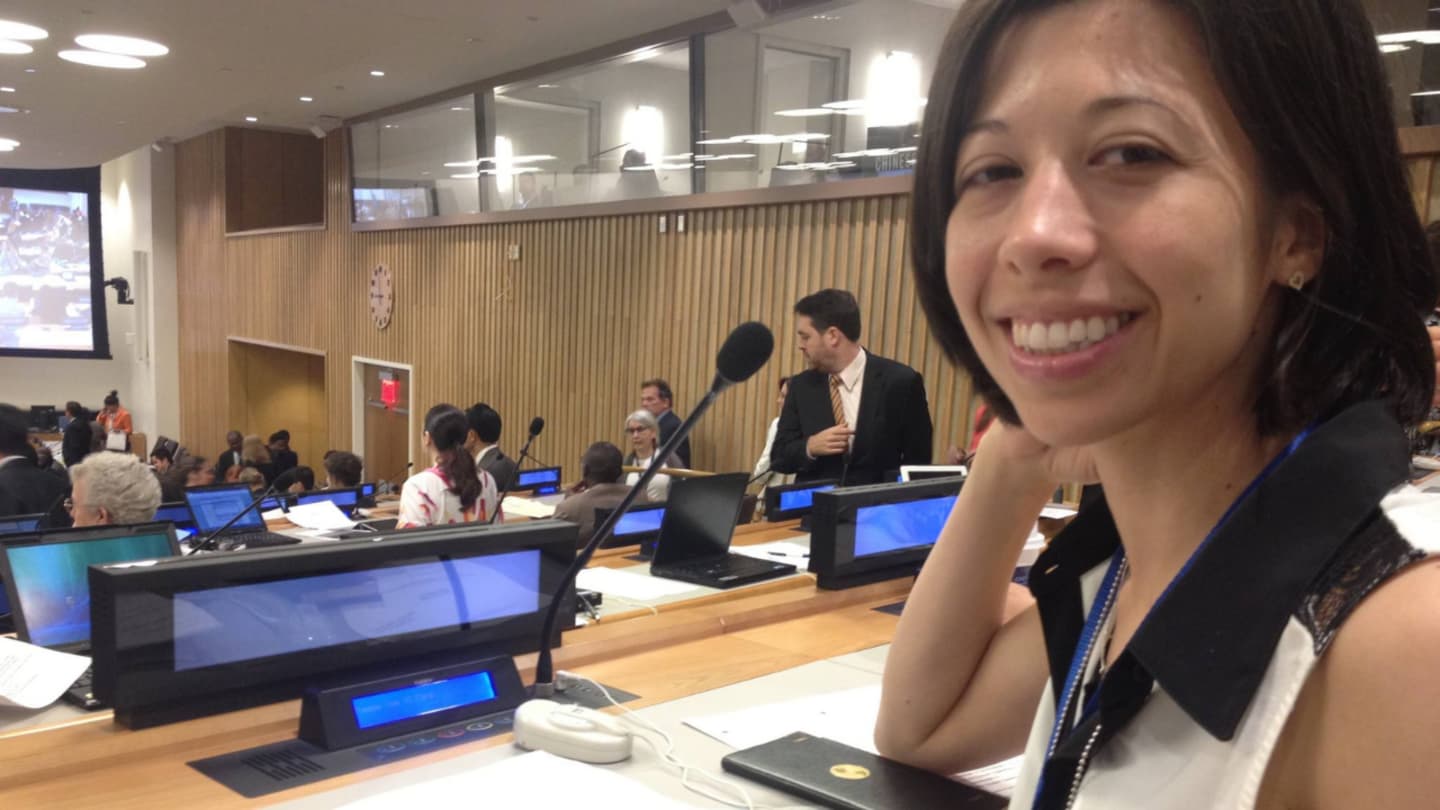 Second, after serving two terms as an elected board member for the UN CSocD Committee, I had worked very hard to see International Legislation passed on Social Protection Floors. In 2017 our coalition finally succeeded in creating a UN Resolution on Social Protection Floors. This was a huge accomplishment for UN Legislation and it was passed during our Commission on Social Development.
If you had the opportunity to give a TED talk, what would you speak about?
How we can act locally to make an impact globally. Understanding how our work on the ground is meaningful because UN work can't happen without local implementation and buy-in. I would also talk about how we as individuals can connect with our global policy makers and the global community.
What's something valuable you learned outside of the classroom at AAU?
I was given the valuable and unique opportunity to be part of a research team at Charles University during my first year in Prague. We researched human trafficking along the Czech-German border for the EU. It was a three-year, funded AGIS project, where I got to work with researchers from Prague, Leipzig, and Warsaw. This helped me gain valuable experience in the field dealing with global issues and conducting sociological research.
Knowing what you know now, what would you advise yourself when you were just graduating from AAU? What advice would you give to current students?
If I had known that the Sociology and Public Policy program would have been discontinued at AAU – I would have advised myself to listen to Don Fuller and switch my major to International Relations. At the time, I wanted to be a Sociologist so I was insistent on remaining in the Sociology Program. However, in the end, I became a "Knowledge Worker" as Fuller trained us to be. I never thought I'd be doing I.R., but that's exactly where I ended up. At the time the field was new, so I didn't think it would catch on, but now it's as standard as Sociology.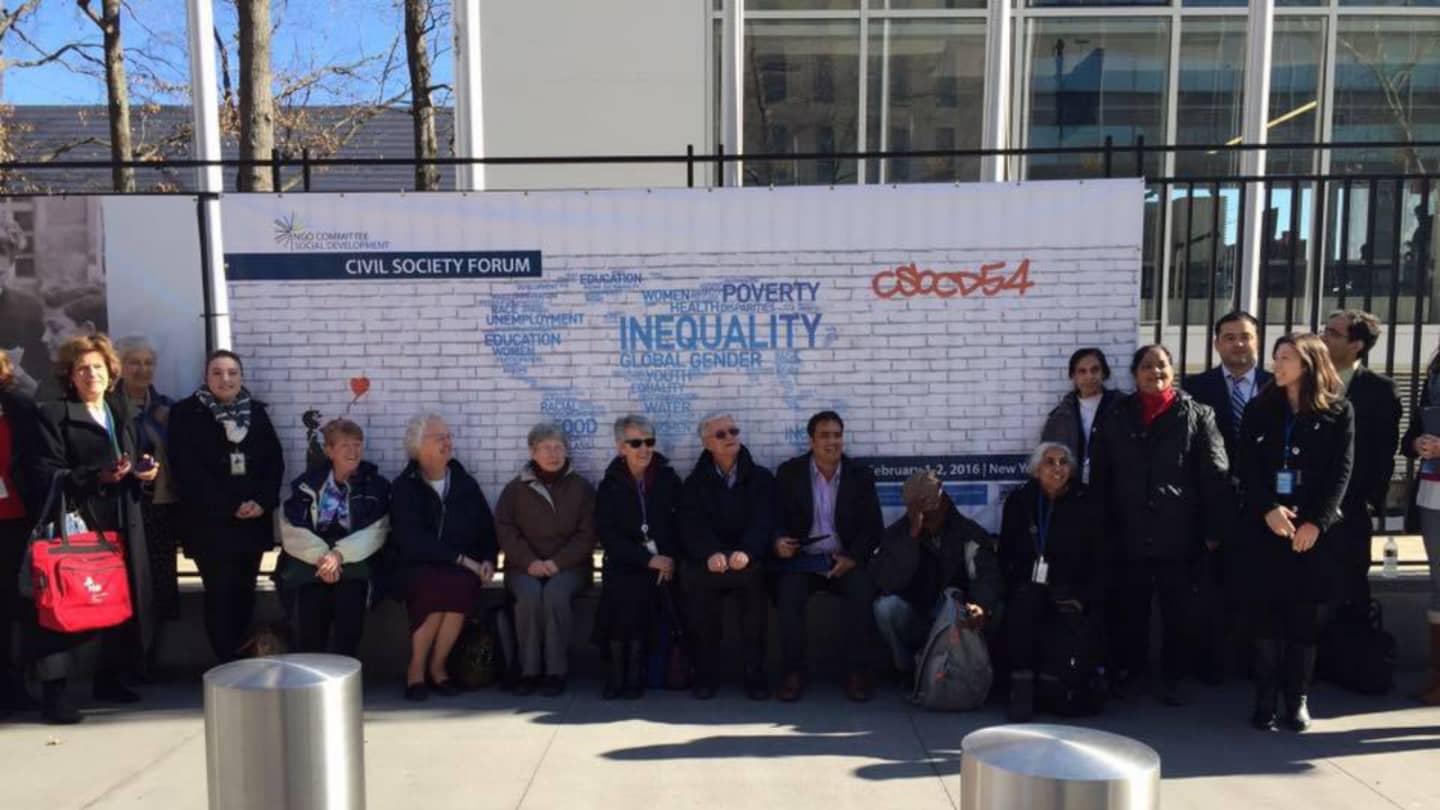 If you could invent an app, what would it be and why?
I'd create an app that would connect students with their local UN Officials, to learn about how they can engage with issues they care about.
Tell us something unique about yourself.
I really enjoy creating art for fun and relaxation. Prior to my career at the UN, I had an art exhibit in London and in New Paltz, NY. Lately, I've been developing my skills as an amateur painter and photographer and in 2013 I got my 200 hour Yoga Certification (for fun).
---
To find out more about what the UN does towards achieving Sustainable Development Goals, and how you can get involved, check out the UN SDG Student resources links below.