New Student Mentor Program
Our way of saying, "Welcome to AAU, welcome to Prague and welcome home!"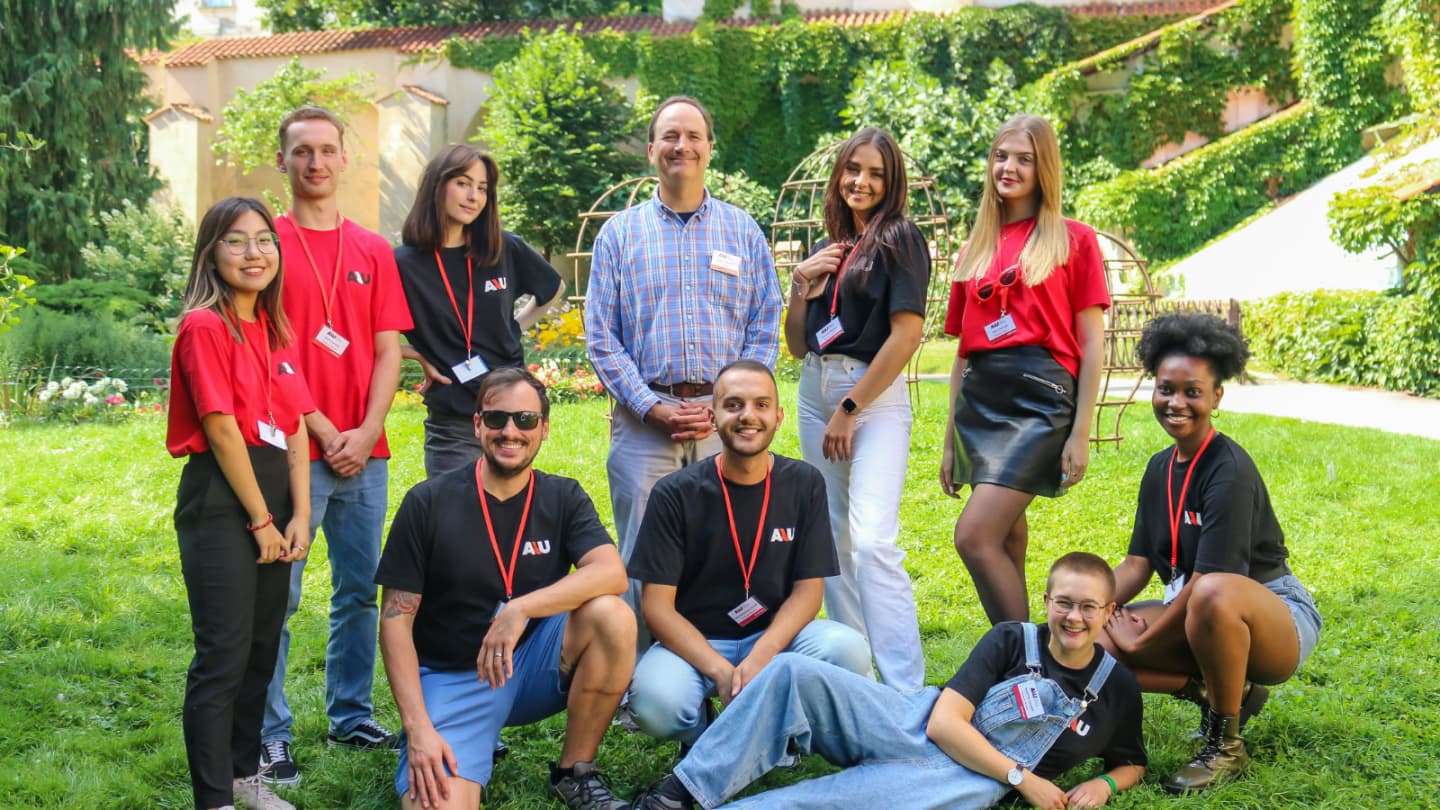 About the Program
We know it can be challenging transitioning into a new environment and we want you to enjoy all the excitement that student life in Prague has to offer. Who better to show you around than current students?
The AAU New Student Mentor Program matches up new students with a group of experienced student volunteers who assist new students in adapting to university life. Whether you are a first-year student, transfer student or exchange student our AAU Mentors are here to help!
Guide you through New Student Orientation
Answer questions and provide recommendations related to life in Prague
Accompany you to visa or other official appointments where you might need help
Give you insight into specific degree programs and student resources at AAU
Help you meet other students through organized events and activities
Meet the Mentors
Mathilde Sandahl
My name is Mathilde Sandahl. I'm from Denmark and I study International Relations at AAU. Besides being a student mentor, I am the event manager of the student council. I also volunteer at Mezipatra queer film festival. I'm a movie geek, a book nerd, and a travel enthusiast. Oh, and I bake a mean banoffee pie. I can show you the best gay bars, the best place to get hot chocolate, the best English bookshops, and the best-hidden gardens. I also know where to buy crumpets and where to find a gynecologist — though I don't think there is a connection between those two.
Contact: mathilde.kjeldbjerg@aauni.edu
Brenna Schnedar
Hello! My name is Brenna, and I'm a new student mentor at AAU. This is my second semester studying under the humanities bachelor program. I'm from Southern California, so I have a little bit of experience in what it's like to adjust so far away from home. While I'm still getting to know my way around some parts of Prague, I have definitely learned a lot, so I'd be glad to help with any questions (I know I had many at first), or if you're simply looking to make friends. Hope to see you around campus!
Yuliia Kondaurova
G'day everyone! My name is Yuliia Kondaurova and I'm a 3rd year student studying Business Administration at AAU. I will gladly help you during your adaptation period in Prague by sharing my personal experience as well as some useful tips on how to get around as a local. I can tell you a lot about current university clubs or share the spot where to go to see the best sunset in town. I recently did my Erasmus exchange semester in Berlin, so all of the freshman's concerns are still vivid in my memory. If you also would like to become an exchange student one day, I can share all of the useful info on how to prepare for it and what to expect. Please feel free to contact me if you need an advice or have any question! Can't wait to see you all at the new students orientation!
Maria Ferariu
My name is Maria Ferariu. I'm from Romania and I study International Relations at AAU. Besides being a student mentor, I am the president of the Basketball Club. I like specialty coffee, I am a Formula 1 fan, and a travel enthusiast. I can show you great specialty cafes, the best place to get hot chocolate, the English bookshops, and wonderful hidden gardens, including a secret entrance to the Prague castle which skips the long lines. I love meeting new people and I am also very friendly, so do not be scared to reach out to me if you have any questions about IR classes or life in Prague. Contact: maria.ferariu@aauni.edu
Drake Dewey
Hello! My name is Drake Dewey and I am a second year Master's student studying International Relations and Diplomacy. I am originally from Cleveland, Ohio but did my undergraduate studies near Philadelphia, Pennsylvania. My passions are ice hockey, reading, and international relations. The main things I like to do in Prague are chilling with friends, going to Slavia matches, and working out. Here's my AAU email: drake.dewey@aauni.edu.
Hunter Vaughan
Hello! My name is Hunter Vaughan and I am a third-year International Relations student with a concentration in Human Rights. I am originally from North Carolina in the United States. Aside from being a mentor, I am also heavily involved in AAU Student Life serving my second term as the treasurer of the Student Council and am the managing editor of student-run Letenska Life Magazine. I'm happy to talk about anything AAU related, especially related to the school of IR and anything with Student Life in general. I can show you around Prague, including some great bars, cafes, and English bookstores.😊
Brooklyn Ferenc
My name is Brooklyn and I am a second-year bachelor's student studying International Relations and Diplomacy with a concentration in Human Rights. I am very passionate about student life and being an informative bridge between students and administration. I love reading, film, cat cafes, fashion, and singing. I can show you some of Prague's great night life or introduce you to relaxing cafes by the river. I am also excited to be taking on the role of Events Manager on Student Council and I hope that by the end of the year, new and returning students find new connections and long-lasting friendships at AAU.
Lukas Otava
Hi everyone, my name is Lukáš Otava and I look forward to being your student mentor. I am a 3rd year student studying Business Administration with a focus on accounting & finance. I am also one of the presidents of the Business & Finance Club, so I look forward to seeing you all there! In my free time I like to join the school clubs, as I believe it is the best way to meet new friends and relax. I am very friendly, easy going, positive and will always greet you with a smile on. So please reach out to me with any questions you might have, and I will try to help you and make your experience at AAU a great one. Instagram: Lukas_otava