Chapman MBA in Prague
The prestigious Chapman Master of Business Administration at Anglo-American University in Prague is a 17-month program taught entirely in English and offered in cooperation with Chapman University Argyros School of Business and Economics (ASBE) based in California USA.
School intro
| | |
| --- | --- |
| Accreditation | WASC + MSMT |
| Degree | Master of Business Administration |
| Duration | 17 Months |
| Location | Prague, CZ |
| Tution | CZK 450,000 |
| Intake | Fall / Spring |
| Deadline | Rollings Admissions |
Apply Now
Download Brochure
Please submit your details in order to receive the brochure via email.
About the Chapman MBA in Prague
Students have the unique opportunity to earn a U.S. education from Chapman University, one of the most well-known Business Schools in the world, right here at Anglo-American University in Prague, Czech Republic.

Top-tier Faculty
Chapman MBA in Prague students are taught by qualified, experienced faculty who use the highly interactive Western style of engaging students in participative learning.
60% of the program's credits are taught by Chapman University professors. The remaining courses are taught by local industry experts who hold prestigious degrees, including professionals from Fortune 500 global companies based in Prague.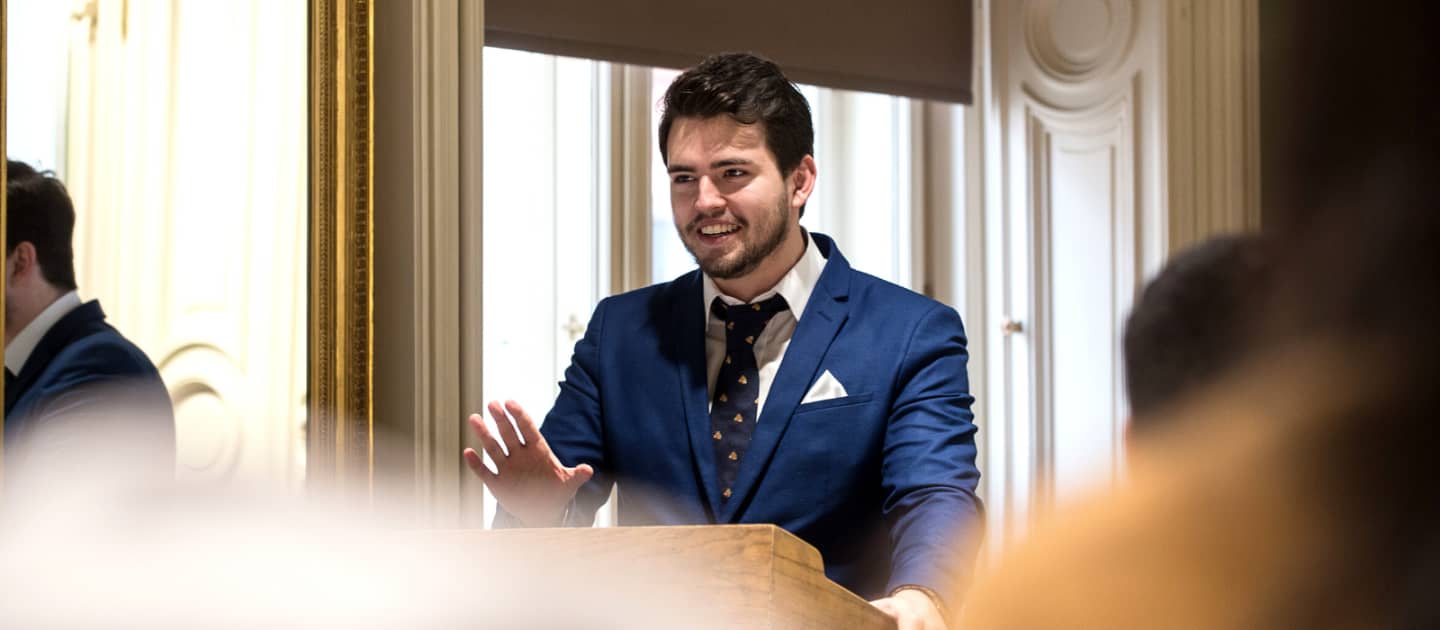 A Top-Ranked MBA in the Czech Republic, EU and US
Corporate recruiters ranked the Chapman MBA in Prague 30th among full-time MBA programs and the Chapman University Argyros School of Business and Economics was named 3rd among private schools in California and has been featured in numerous global rankings such as U.S. News & World Report 2016 and Bloomberg Business Week.
Based in California, Chapman's Argyros School of Business & Economics graduates make roughly $69,000 in salary and bonus to start, with an enviable 87.5% placement rate within three months of graduation.
3rd
Among Private Business Schools in California
60%
Chapman University Faculty
87.5%
Employment within 3 Months of Graduation
$69k
Average Graduate Salary
Bridging Prague and California
AAU prides itself in offering a unique international experience to all its MBA students. Aside from the international environment at AAU students are encouraged to take a course at Chapman University in California.
After having completed the program students are conferred the degree of Master of Business Administration (MBA) by Chapman University based in Orange, California, USA. Soon-to-be graduates then have the chance to choose if they would like to successfully conclude their studies by attending the MBA graduation ceremony at Chapman University in Orange, Californie, or at Anglo-American University, in Prague.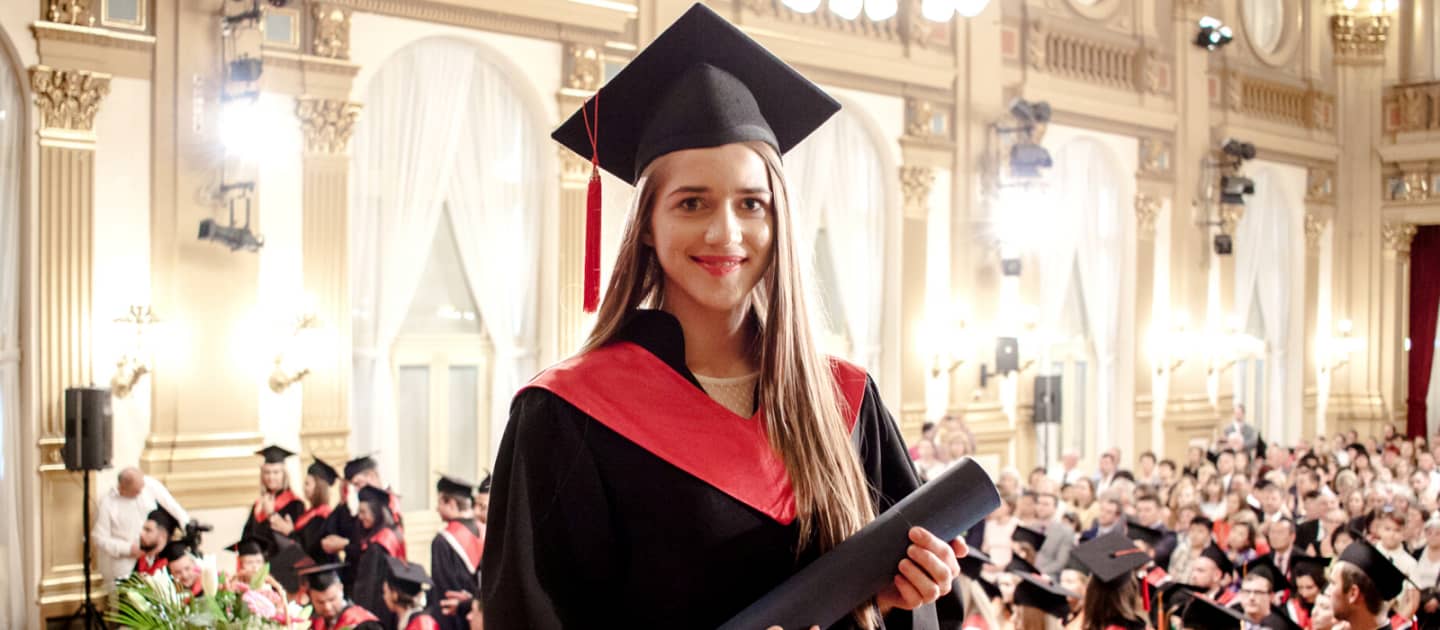 Such opportunities give our Chapman MBA in Prague graduates a competitive advantage within the global market by providing them with an excellent education and a worldly perspective.
Quality Guaranteed by Accreditations
The Chapman MBA in Prague program is the only MBA program in the Czech Republic that is so strongly accredited. The quality of the program is ensured by two levels of accreditation in addition to local recognition.
First, Chapman University's Argyros School of Business & Economics (ASBE) is accredited by AACSB (Association to Advance Collegiate Schools of Business), the "gold standard" of business school accreditation.
Secondly, both Chapman University and AAU are regionally accredited by WSCUC (WASC Senior College and University Commission), one of six American regional accreditation associations acknowledged by the U.S. Department of Education.
The program also became the first and only MBA program in the Czech Republic to be recognized by the Ministry of Education, Youth and Sports as a Master's degree program. This is also the only MBA program in the Czech Republic that grants its participants official "student status", giving them access to student discounts and benefits.
Program Structure
The Chapman MBA in Prague program places emphasis on strategy formation, execution, and evaluation. It integrates core, elective and capstone courses to further students' understanding of how firms gain and sustain a competitive advantage.
The MBA course of study is comprised of twelve 3 or 4 credit courses:
8 core courses
3 electives
1 capstone course
Below, you can find a list of courses and modules for the Chapman MBA in Prague.
Intensive Weekend Format
New student cohorts begin each year at the end of September and the program is uniquely structured in an intensive weekend format to accommodate employed students.
Fridays: 17:00 – 21:00
Saturday: 09:00 – 18:00
Sunday: 09:00 – 13:00
View the Current 2020/2022 MBA Schedule here. (Please note schedules are subject to change.)
For more information on the program structure and study plan, please contact our admissions team at admissions@aauni.edu.
Career Prospects
Diverse classes and the highly interactive, case-study driven, strategic courses that the MBA offers all give our alumni the competitive edge to take their careers to the next level. AAU graduates thrive in multinational environments and are able to communicate professionally in English to international audiences.
We are proud to have graduates go onto pursue careers such as but not limited to:
Top Project Managers
General Managers
Financial Directors and Analysts
Risk Managers
Division Directors

Matthew Ralston, a 2011 graduate of the Chapman MBA in Prague and currently Strategic Partnership Manager for Nordstrom, North America's leading luxury department store. Read his success story.
Additional information
See what our students have to say
What I enjoy most about AAU is its diverse and engaging environment. The smaller class sizes allowed me to make meaningful connections with faculty members and students, and facilitated networking, which is extremely important in the business world and has enabled me to seek out the right opportunities.
Kristian Pankulych
Business Administration
We do almost all of our projects in small international teams, and we work together as we would in a business company and synergize our different ideas. There's the flexibility to meet with teachers outside of class and ask them questions, not only specific things we learned about in the class but about professional development, networking, industry insight, or anything at all!
Do you have questions?
We are happy to help!
Ask us a question!