Freedom and Truth: Walking through Václav Havel's Legacy
Emerge from the lockdown and celebrate freedom by walking around Prague in Václav Havel's footsteps, reflecting on his legacy, taking lessons from his leadership, exactly 32 years after the petition "A Few Sentences" signaled the crumbling of a totalitarian regime. 
30 Years of Education
Key Facts
Instructors: Josh Hayden & Tereza Rafoth
Course Description
In June 1989, Václav Havel, fresh out of prison, co-wrote the popular "A Few Sentences" petition with the authority characteristic of a person who had sacrificed much for the pursuit of truth and freedom for his people. 30 years and one pandemic later, his values, works, spirit and enthusiasm are as inspirational and important as then. This experiential outdoor course, led by an experienced Czech guide and a leadership professor from the US, takes us places to discover Havel's message and legacy. The recent loss of Václav's brother Ivan, whom he was very close with, is another good reason for reflection on how this generation of dissidents shaped Prague and Czech Republic. We will embark on a journey into Havel's life: his family, life under communism, his theater and dissident activity, his interrogations and sacrifice, and why he became a trustworthy leader in a dark period of totalitarianism. We will then grapple with this speech and other Havel quotes in a highly interactive conversation, drawing inspiration and having fun along the way.
Methodology
This AAU Academy Special is an experiential course led by AAU Academy instructors with profound research experience on Václav Havel and outstanding knowledge about special sites in the city of Prague. As all LovePrague courses, this AAU Academy Special combines academic depth on the topic with an enlightening and interactive teaching style and the interchange of inputs by all participants. The course will be responsibly held in a spirit of freedom and include a glass of wine for all participants. Bring comfortable shoes, warm clothes, a notebook, and good cheer.
Schedule and Course Content
17:30 Meet at St. Wenceslas statue on Wenceslas Square/ Greeting and Purpose
Lucerna Palace: Leadership and Truth, "Looking behind the Curtain"
A Few Sentences (1989) and Havel's New Years Address (1990)
18:15 Walk to Narodni Trida
Kafka Head: Absurdity and Community
Velvet Revolution monument: The role of theaters and actors
19:00 Walk to Bartolomějska street, former home of State Police and interrogation center
Short visit to St. Bartholomew's Church, site where Havel was detained
19:30 Divaldo Na Zabradli (Theatre on the Balustrade) where Havel's plays premiered in the 1960's. Theater as a form of leadership
19:50 Final Words and Toast (wine will be served)
Materials
Reading and quotes from Havel will be printed for participants.
Your Instructors
Tereza is a licensed Prague guide offering inspiring tours blending history, art and literature. Her academic background is in journalism and German and Czech language and literature. She is an Alumni of UW Eau Claire and Masaryk University in Brno. Tereza authored a book on the Coexistence of Czechs, Germans and Jews in Šumava Mountains, curated a multimedia exhibition and runs a non-profit organization promoting cultural education outdoors including the annual Festival of Karolina Světlá. She strongly believes that guided walks bring a powerful momentum to ignite a change in people's lives. She loves cross country skiing, poetry on the rooftops and dulcimer band music in the wine cellars.
Josh Hayden earned his doctorate in higher education leadership and policy from Vanderbilt University in the U.S. and has published and taught in the field of leadership students for the past ten years. His research interests are Václav Havel's moral leadership, leadership ethics and change, self-awareness, and adaptive leadership theory and practice. Josh led the Quality Enhancement Plan on Scholarship, Learning, and Academic Mentoring at Cumberland University and built executive education leadership programs at Lipscomb University, both in Nashville, Tennessee. He has worked with the community, educational and organizational leaders in Haiti, India, Kazakhstan, Ethiopia, Uganda, and Brazil. His wife and 4 children love the outdoors, the arts, sports, traveling, and he plays the banjo in his spare time.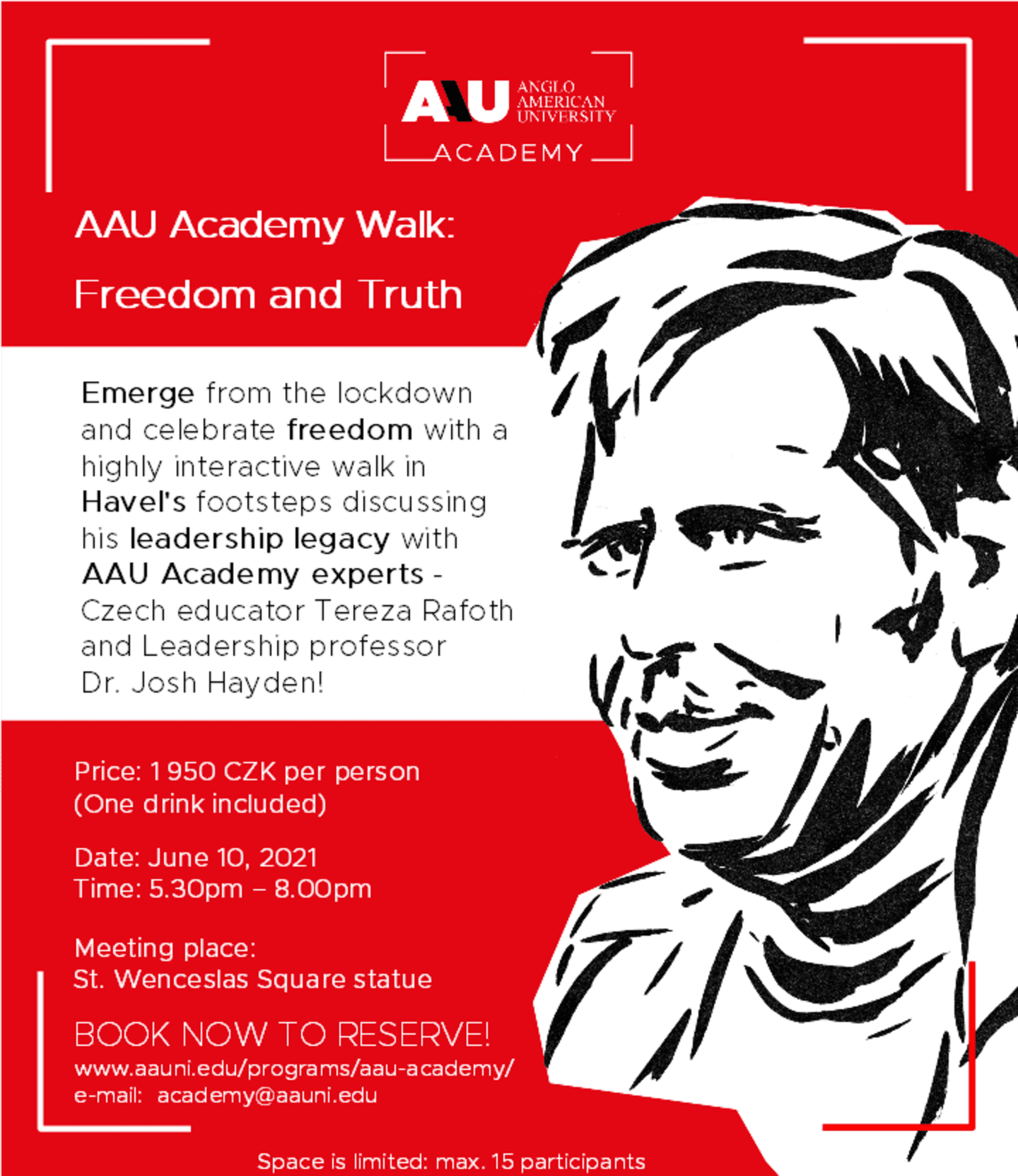 See what our students have to say
We do almost all of our projects in small international teams, and we work together like we would in a business company and synergize our different ideas. There's flexibilities to meet with teachers outside of class, and ask them questions, not just specifically things we learn in the class.
Ann Connolly
Business Administration, United States of America
AAU makes networking incredibly easy to do. I was able to participate in various events that don't necessarily connect to my coursework like conferences, literature festivals, debates, lectures, etc. When I was President of the Diplomatic Club, AAU helped me get in touch with event-organizers, which, for example, allowed us to host an event during the Festival of Democracy organized by the famous Forum 2000 conference.
Anastasia Mezenina
Business Administration, Russian Federation
Do you have questions?
We are happy to help!
Ask us a question!